ImPat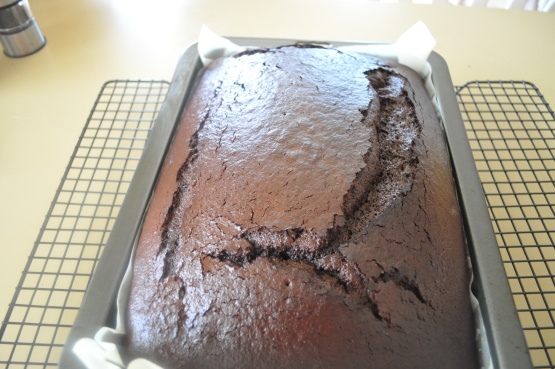 This is a fab recipe,easy and always comes out great.For something different crumble up the cake with your hands,make a cream cheese frosting with 500g cream cheese,1/2 cup room temp butter,31/2 - 4 cups icing sugar and 1 teaspoon vanilla.Mix well with cake crumbs and shape into balls.Delish!!Add some bourbon if you want a grownup version.Be careful if you double this recipe,it will require 2 large bowls and 2 large baking tins!!Servings are approx.

Top Review by ImPat
I used a pan that is just a tad over 13x9 (which is the largest that will fit into my oven) and at 175C fan forced it took an hour to bake. When the DH tried it (it was for his morning and afternoon teas) and even though it looked moist it was quite dry to the taste, the texture reminded me very much of a dense mud cake. The DH thinks it will be great with custard, for now he has sliced it and frozen it and will probably try it with custard later in the week when he is not on night shift and depending on how that goes will reassess the review. Thank you katej76, made for ZAAR Chef Alphabet Soup.
Preheat oven 180 degrees C.Grease and line a large rectangle baking tin.
Sift all dry ingredients into a large bowl.
Beat in remaining ingredients one at a time.
Mix well.
Pour into tin and bake about 50 minutes or until skewer comes out clean.
Cool in tin then turn onto a wire rack.
Decorate or make into cake balls.
Enjoy!