Awesome Blueberry Muffins
bluespun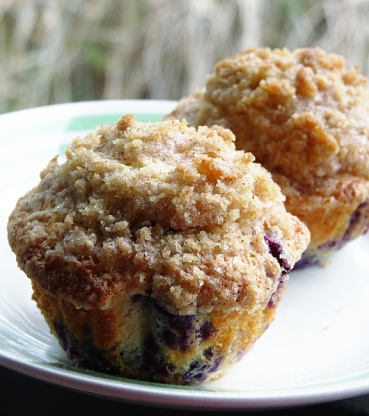 This is a awesome Blueberry muffin recipe. Double it to make large muffins. I sometimes add cinnamon to the batter.

Absolutely loved this recipe. It reminded me of when I was a little girl and went blueberry picking with my Memer. We would come back and make pies and the most wonderful blueberry muffins. I used large fresh blueberries. It was soooo good. One suggestion: Sprinkle flour on the blueberries and shake it up. Then shake off excess flour and put it in the batter. This prevents the blueberries from going to the bottom of the muffin when it cooks. Thanks for sharing this recipe. It was great!!!
Preheat oven to 400 degrees F (200 degrees C).
Grease muffin cups or line with muffin liners.
Combine 1 1/2 cups flour, 3/4 cup sugar, salt and baking powder.
Place vegetable oil into a 1 cup measuring cup; add the egg and enough milk to fill the cup.
Mix this with flour mixture.
Fold in blueberries.
Fill muffin cups right to the top, and sprinkle with crumb topping mixture.
To Make Crumb Topping: Mix together 1/2 cup sugar, 1/3 cup flour, 1/4 cup butter, and 1 1/2 teaspoons cinnamon.
Mix with fork, and sprinkle over muffins before baking.
Bake for 20 to 25 minutes in the preheated oven, or until done.