KPD123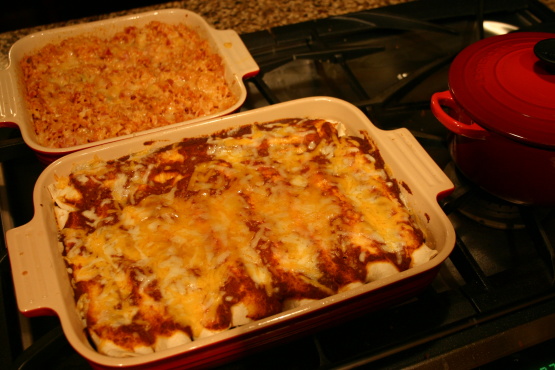 Oh man, I really love this recipe. It's truly awesome! Most people like corn tortillas with their enchys, but I prefer flour...by all means, go with what you like! Sometimes I throw black beans into the meat mixture, Anyway Enjoy!
Thanks for posting this yummy recipe. I used 1 small red bell pepper. I omitted the serrano peppers. I didn't have enough cream cheese, so I substituted plain yogurt. For the enchilada sauce, I used recipe#222519. At the end I put the oven to broil to broil the cheese. Very good. Even my son loved this. Thanks KPD :) Made for Think Pink event
Brown beef, onions, peppers and garlic in large skillet over medium-high heat until browned and veggies are soft.
Add taco seasoning and 1/2 cup of enchilada sauce, stirring until combined. Turn off heat and add cream cheese. Stir until cream cheese has melted into mixture.
Spread 1/2 cup of enchilada sauce into the bottom of a greased 13x9 casserole dish. Spoon about 1/4 cup of meat mixture down the center of each warmed tortilla and roll up. Place enchiladas seam side down in dish.
Top enchiladas with remaining 1 cup of enchilada sauce. Then top with monterey jack cheese.
Bake for 20 minutes at 350 degrees or until cheese is melted. Serve with rice and beans if you so desire!