VickyJ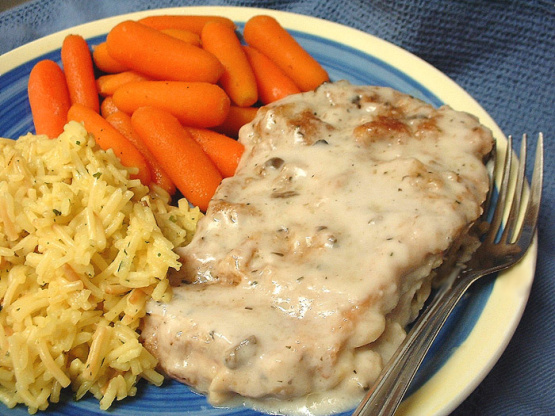 These chops remain moist and tender, and the sauce is to die for! You probably have all the ingredients in your kitchen to make this! Serve these chops over rice!

Top Review by AmaJoy
Ohmygod, so good! I used three center cut chops, and followed the advice of several reviewers and cooked 40 minutes before the sauce, 22 minutes after. My additions: Tabasco to the egg mixture (I also used liquid egg whites), copious Worcestershire to the soup (ff cream of celery), garlic salt & onion powder on the chops before pan-frying and in the soup mixture, a dash of Emeril's Bayou Blast for a little kick in the soup, and I carmelized very thinly sliced onions in the pan with the chops when pan-frying. I put the onions in the soup mixture while the chops were in the first round in the oven. I had this over whole-wheat egg noodles with steamed veggies, and it was fantastic! Definitely a repeat per my hubby's request! Ditto on the making extra sauce next time!
Preheat oven to 350.
Rinse pork chops, pat dry, and season with garlic powder and seasoning salt to taste.
Place the beaten eggs in a small bowl.
Dredge the pork chops lightly in flour, dip in the egg, and coat liberally with bread crumbs.
Heat the oil in a medium skillet over medium-high heat.
Fry the pork chops 5 minutes per side, or until the breading appears well browned.
Transfer the chops to a 9 x 13 baking dish, and cover with foil.
Bake in the preheated oven for 1 hour.
While baking, combine the cream of mushroom soup, milk and white wine in a medium bowl.
After the pork chops have baked for an hour, cover them with the soup mixture.
Replace foil, and bake for another 30 minutes.