Shawn C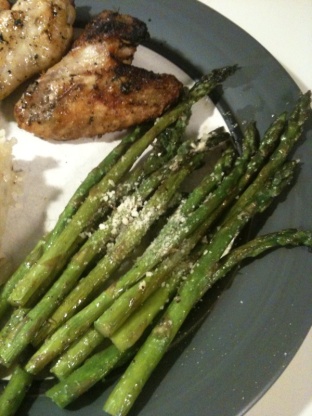 I love this recipe because it is simple, quick and tasty. The asparagus is tender/crisp. WE have also used feta cheese either with or without the parm cheese to twist the flavor a little- great! Since we are on a low carb diet this recipe really brightens up our menu.

Top Review by ktkate
I have never cooked asparagus before or even really liked it, but my boyfriend loves it, so I agreed to cook it. This recipe is awesome and so easy. I will be cooking and eating asparagus again.
In medium fry pan (preferably non stick), heat oil and butter on med-high heat. Place asparagus in pan trying to get in a single layer so all can cook evenly. Season with the salt and pepper (adjusting to taste), cover with a lid to help "steam" the asparagus for about 5-6 minutes, tossing occasionally with tongs.
When done to your likeness of crisp or tender, toss in the parmesan cheese and serve immediately.