Terrific with anything grilled, this slaw is easy to prepare, as well as delicious and beautiful. It's great for summer barbecues.
Directions
In a small bowl, whisk together the dressing ingredients.
This can be made ahead and refrigerated for several days.
Let stand 30 minutes at room temperature before tossing the slaw.
In a large bowl, combine the slaw ingredients.
Add dressing and toss to coat.
Season and serve.
Reviews
Most Helpful
YUM! This slaw rocks!!! Made it today to go with fish tacos and it was outstanding. Subbed a tablespoon of sesame oil for one tbsp of vegetable oil to give it a bit more kick. Loved the peanutty dressing, which I think would also taste great on cold noodles. This is a keeper and you are right...perfect for summer barbeques. It makes a lot, too.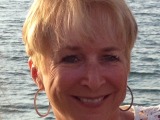 This was excellent! I made the full amount of the dressing, but I ended up only using about half of it because we like our slaw a little drier. Saved the rest for other salads and a stir-fry later in the week. I also used tahini in the dressing, but I forgot to cut back on the oil, so it was slightly greasy but not too bad. I also subbed 1 tbsp. sesame oil and 2 tbsp. chili oil for half of the vegetable oil called for. The chili oil gave it a slight zing without taking away from the nutty flavour. My husband ate 2 large helpings himself, which is unheard of with other traditional slaws! Thanks for the great recipe! I'll be using it often through the summer. :)

Amazing recipe. My husband said that this was the most amazing thing I have ever made. He wants me to make the sauce for dipping at least once a week. Warning....this is a lot of slaw.