Awesome Angus Roast Beef Wraps
lets.eat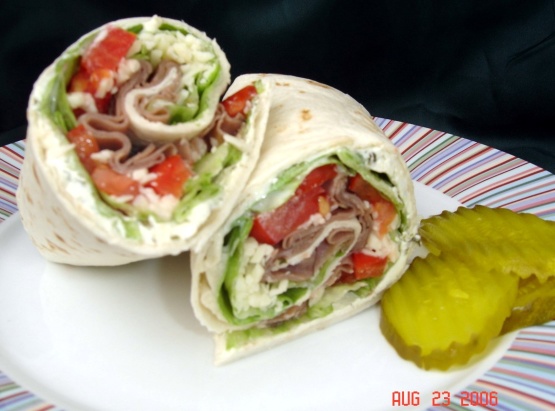 DH and I have been experimenting with wraps lately, I came up with this and DH absolutely loved it and suggested I post it.
Spread Onion and Chive cream cheese on one side of tortilla.
Lay out slices of Roast Beef evenly on tortilla.
Dribble a little Ranch dressing in a thin line down the middle.
Spread a small thin line of Horseradish down the middle.
Spread out the torn romaine lettuce evenly on tortilla but make sure all ingredients are a little away from the edges so you can fold it easier.
Put strips of tomato in a line down middle.
Spread Monterey Pepper Jack Cheese evenly on tortilla.
Fold the ends of the tortilla to the stuffing, then starting at one side, roll up the tortilla.
Makes one wrap.