Awesome Angus Roast Beef Wraps

DH and I have been experimenting with wraps lately, I came up with this and DH absolutely loved it and suggested I post it.
Directions
Spread Onion and Chive cream cheese on one side of tortilla.
Lay out slices of Roast Beef evenly on tortilla.
Dribble a little Ranch dressing in a thin line down the middle.
Spread a small thin line of Horseradish down the middle.
Spread out the torn romaine lettuce evenly on tortilla but make sure all ingredients are a little away from the edges so you can fold it easier.
Put strips of tomato in a line down middle.
Spread Monterey Pepper Jack Cheese evenly on tortilla.
Fold the ends of the tortilla to the stuffing, then starting at one side, roll up the tortilla.
Makes one wrap.
Most Helpful
Big it at my party and they looked beatiful cut in half on a diagonal. Thanks for a great recipe.
carolinerenee, I made these last night and could NOT quit eating them! The roast beef and the horseradish go together hand-in-glove and the idea of a wrap is so much better than the traditional sandwich. I exprimented a bit after the first round and I found that I liked them best with Hellman's brand Dijonaise, which is a blend of dijon mustard, horseradish and mayo. It seems the perfect blend for this wrap. Still, on a warm summer day with a cold beer, I could go for an additional spread of the horseradish in addition to the Dijonaise. I think next time, I'm also going to try some roasted red pepper slices (from a jar) and, having now also tried it with baby swiss cheese, I think I'll stay with that for awhile. But honestly, your original recipe is just killer -- any changes aren't at all an improvement -- just adjustments for personal tastes. Thanks for posting one of the best ones yet! big pat.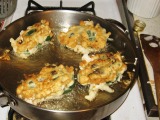 Caroline, the name really fits these wraps-they indeed were Awesome! Mine were a little milder though, I didn't have any prepared horseradish so I used Horseradish sauce, and used monterey jack instead of pepper-jack. I really couldn't imagine this tasting any better than how it was! Thank You!