Awesome and Easy Spaghetti Casserole
Parsley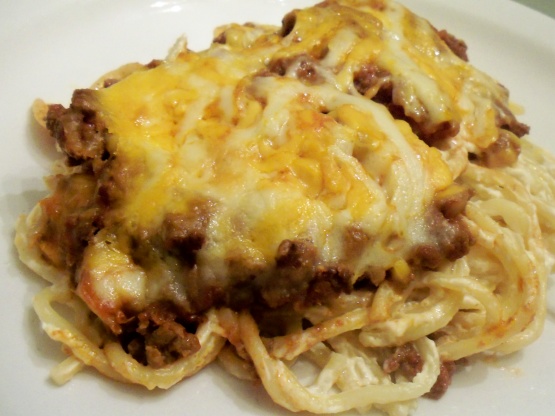 This is a great alternative to Spaghetti! It also freezes and is perfect for large gatherings. A vegetarian option is to omit the meat and use spinach instead.

I love fixing a meal like this early in the week so that my fiance and I have lunches to take to work for a couple days. This was very simple to make, and pretty inexpensive. I seasoned the beef with onion powder and cajun seasoning, and used about 4 cloves garlic instead of just 1. For the shredded cheese on top, I only used about 1 3/4 cups. Will make again, especially when feeding picky friends.
optional: Mushrooms, tabasco sauce and Tony's cajun seasoning to spice it up.
Sautee' butter, chopped garlic, sugar, salt, and pepper in a skillet.
Add meat and brown.
Add tomato sauce and simmer 20 minutes.
Cook and drain noodles.
Add Cream cheese, Sour Cream, and Onion.
Mix well and layer in the bottom of a casserole dish.
Top noodles with the meat mixture and top with grated cheese.
Bake at 350* for 30 minutes.
Allow 10 minutes to cool before serving.