Raven G.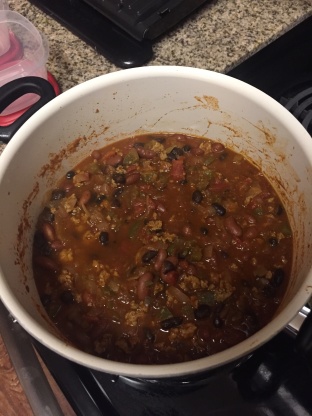 Every year in my area there is a city wide chili cookoff. My group has won 3 years in a row. This is my recipe (although I have scaled it down, we usually buy 30 lbs hamburger). It is hearty and easy, even my kids will eat it. I add fresh mushrooms to mine at home and add a bit more spice. If you can don't skimp on the ground sirloin, it is so much better than the cheaper stuff.
I like this recipe as I love chili! I added cuisinart chopped carrots for more veggies and prefer it with added beef broth and low on the tomato sauce. I add at the end a favorite fresh salsa that includes the chopped tomatoes. the second day it gets better! Chopped fresh cilantro makes a finely tuned finish! Serve with guests able to add chili flacks for more spiceyness!
Brown hamburger, onion, green pepper and garlic, then drain(there isn't usually much to drain with the ground sirloin).
In large pot, dump in meat mixture.
Add both beans, water, tomatoes and tomato sauce.
Add spices and stir.
Add brown sugar and stir.
Cook for 20-30 minutes.
Serve with cheddar cheese, sour cream, crackers.