Avoyelles Parish Chicken and Sausage Gumbo
gailanng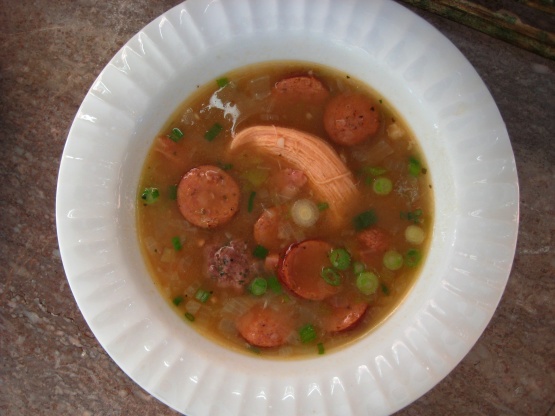 You couldn't get any more authentic. This was taught to me by my Cajun maternal grandmother who was taught by her maternal grandmother. I've never run across a gumbo recipe with "parsley meatballs". These are optional. I asked my mom about this and she said that this was probably used to "extend" the gumbo because there were usually so many mouths to feed. It's a great addition and worthy of the effort. An observation: never have I eaten Gumbo until recently that has been deboned and this was always at restaurants. Oh, using a baking hen results in a more velvety texture and I have to honestly say that I've never used a fryer. One last thing...it's freezable.

this is a bit of work, a bit of babysitting but the results.....omg are soo worth it!! Please DO pay attention to the roux! I got it successfully(!) to a beautiful caramel color. The only thing I would do differently is to use chicken parts with out rib bones....picking out small bones got in the way of shoveling big mouthfuls. ;) i did make the meatballs & they are fabulous! We absolutely loved this. I highly recommend that everyone should find a day & create this masterpiece! made for 2/11 aussie/nz swap.
1

baking hen, washed and cut up

1

lb smoked sausage or 1 lb andouille sausage, sliced into 1/4-inch pieces
1⁄2 lb ham, chunks diced small

2

large onions, chopped
1⁄4 cup celery, minced

3

garlic cloves, minced
1⁄2 cup bell pepper, chopped
1 1⁄4 cups vegetable oil
1 1⁄2 cups all-purpose flour
1⁄4 cup minced parsley, fresh
1 1⁄2-2 cups green onions, tops and bottoms sliced thin

Optional parsley meatballs

1

lb lean ground beef
1⁄4 cup green onion, tops and bottoms sliced thin

2

tablespoons minced parsley, fresh
In a very large heavy bottomed stock pot or gumbo pot, heat oil on medium heat until hot; add flour. Stir constantly until it reaches a reddish-brown color. This could take approximately 30-40 minutes. Don't hurry the process. If your phone rings, let it go. Should your roux burn, start over.
Turn off fire and carefully add chopped onions, celery, bell pepper and garlic; stir constantly for about 2 minutes.
Add water and cut-up hen pieces. The amount of water depends on your pot, but start off with 1 gallon. Bring to a simmer for 1 1/2 hours, uncovered. The broth consistency should not be too thin nor too thick. Add additional water when needed.
In the meantime make the parsley meatballs:.
In a bowl, break up ground beef.
Add 1/4 cup each green onions and parsley.
Salt and pepper to taste; mix using a light hand forming into balls; set aside.
After the first 1 1/2 hours of simmering and a water adjustment, add salt and pepper to taste.
Add diced ham chunks, smoked sausage slices and parsley meatballs.
Simmer an additional 1/2 - 3/4 hour or until hen is very tender and falling off the bone.
Grease will form on top; skim off.
Turn off fire; add parsley and green onions.
Ladle over rice.