Avocado Wrapped in Prosciutto
ChefLee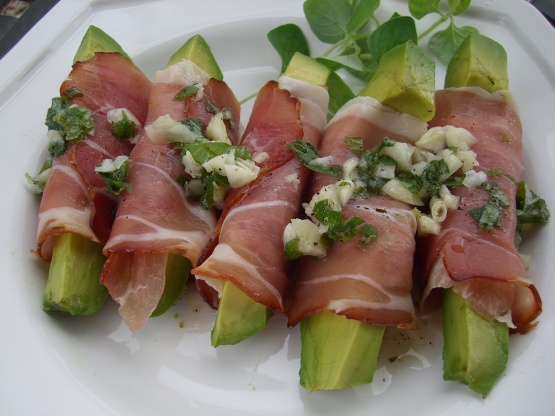 Adapted from BHG "Holiday Appetizers" magazine. The dressing can be made ahead and kept in the fridge, but don't prepare the avocados until just before serving or they will turn brown.

To combine prosciutto with avocado never occurred to me but when I saw this recipe it appealed to me right away. And we were not disappointed! I also did not add salt and made the dressing as written, worth a repeat...thank you!
Combine oil,lemon juice,garlic, oregano, and pepper in a container with a tight lid (such as a jar) and set aside.
Cut avocados into halves, remove pit, and peel each half carefully.
Slice each avocado half into 4 wedges and wrap a proscuitto strip around each in the center.
Shake the dressing if the ingredients have settled and test for flavor-adjust seasonings if needed (although proscuitto is often very salty- be careful not to add salt unless you really like things very salty).
Set on a serving platter and drizzle with some of the dressing (as much or as little as desired).
Serve immediately as avocados brown quickly once cut.