Avocado With Watercress & Shrimp Appetizer
Bergy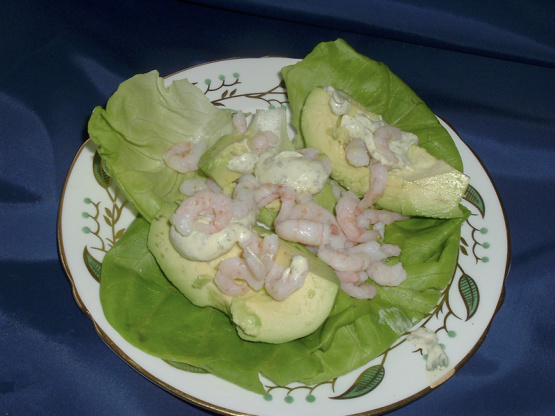 The watercress gives the dressing a nice bite. Quick easy and impressive However I could not find and watercress and substituted Cilantro - - got raves

Top Review by GinnyP
If I could give this more than five stars, I would. I made this using bay shrimp and as a main dish salad. Not unusual for me, I misread the recipe and used a whole "bunch" of watercress instead of 2 T. Bergy, this is a wonderful recipe! I love salads and veggies and this one is right at the top. My husband loved it, too. Thank you!
Mix mayo, lemon juice and cress, chill.
Arrange avocado quarters on the lettuce leaves.
Put the shrimp on and beside the avocados.
Pour on the dressing and serve.