Kana K.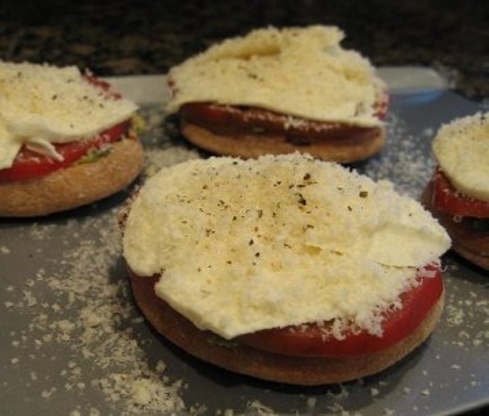 I love both so this is a winner for me.

Yum! I made a couple of changes to the recipe. I never like it when people do that and them rate the recipe but I am doing it anyway. I added olive oil to the toasted bread as brought up by another reviewer and thought it made the bread too moist and it would have been better crunchy to contrast with the texture of the other ingredents. I did brush the toast with a garlic clove and that was really good. I also used a juicy heirloom tomato. I was in heaven. Thanks for a great recipe Kana! I will be making this alot...without the oil.
Preheat broiler to high. Under the broiler,
toast bagel halves on a baking sheet until golden brown.
Remove from oven.
Top each bagel half with sliced avocados and tomatoes;
lightly salt the tomatoes. Sprinkle chopped basil over the tomatoes.
Put a layer of mozzarella cheese over the basil,
sprinkle with grated Parmesan cheese, and top with black pepper.
Broil prepared bagel halves for approximately
2 to 3 minutes or until cheese has melted.
Remove from oven and enjoy!