Avocado, Tomato and Mozzarella Tower Salad
Calee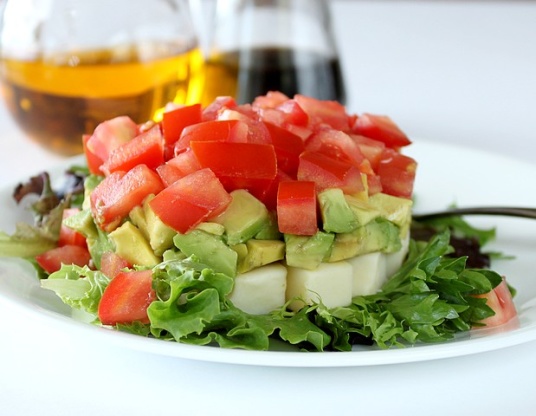 Easy and pretty, not to mention delicious! Adapted from an avocado website.

Top Review by megs_
Sharon, your recipes are always perfect! This was no exception. I didn't have ring molds either, just cut everything into tiny pieces of about the same size and placed them on top of mixed baby greens and drizzled with olive oil and balsamic vinegar. (no chili oil) I also scaled this down for one, so I used 3 oz mozzerella, 1 tomato, and 1 avocado. I wanted to lick my plate clean it was so good! :) What a great balance of flavors and colors - and ingredients to make a very well balanced light meal for a lunch. A definite keeper - thank you SO much for sharing!
12

ounces fresh mozzarella cheese, cut into 1/4-inch dice
1 1⁄3 lbs avocados, cut into 1/4-inch dice

1

lb tomatoes, cut into 1/4-inch dice
salt, as needed
balsamic vinegar, as needed
baby greens, as needed
hot chili oil, as needed
In a 3-inch ring mold, layer 1/4 cup mozzarella, 1/3 cup avocado and 1/4 cup tomato.
Repeat in remaining ring molds.
Using a spatula, slide each mold onto a rack over a sheet pan to drain; refrigerate until serving.
Place baby greens on plates, invert ring mold onto salads.
Place balsamic vinegar and chili oil on table to pass around. Enjoy!