A different sort of salsa - has avocado but is definitely not guacamole. Tasty!
Directions
In a large bowl, combine the corn (or cucumber), olives, red pepper, and onion.
In a small bowl, combine garlic, oil, lemon juice, vinegar, oregano, salt and pepper; mix well.
Pour over corn (or cucumber) mixture; toss to coat.
Cover and refrigerate overnight.
Just before serving, chop avocados and stir into salsa.
Serve with tortilla chips. Note: make sure that you get good, ripe avocados! Also, you can add some minced jalapeno if you'd like a bit of spiciness.
Reviews
Most Helpful
This is a GREAT recipe! A super alternative for someone who can't have tomatoes. My entire family loves it. The great thing about it is that you can add some things and leave out others without changing the goodness. If I don't have olives, I just leave them out. If I have something extra, I add it. I have made it every w/e for a month and it has remained in demand. I bet it would be great with cucumbers, but I was outvoted on trying it. Thanks!
I have been using this same recipe from Taste of Home for about 10 yrs--everyone loves it and always asks for the recipe. Great with Tostitos scoops! Thanks for posting!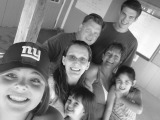 A big hit at a poolside Father's Day gathering - everyone commented on what a nice change it was from traditional tomato salsa. I added half a jalapeno (they were pretty mild, I could have used a whole one) and a few shakes of Crystal hot sauce. I thought this would be delicious wrapped inside soft taco shells with some lettuce and/or refried beans so we'll try it that way next time. Thanks for a keeper!