Avocado Salad (Ensalada De Aguacate)
Parsley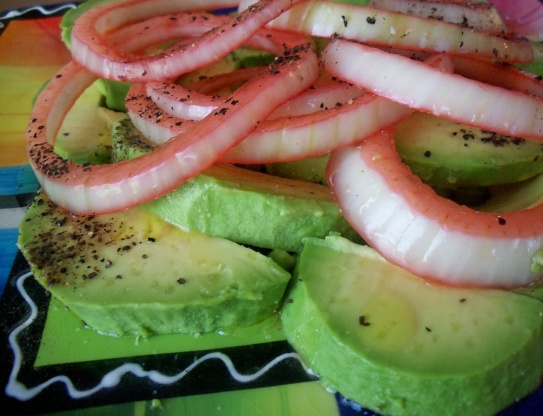 While this originates in Cuba it's typical of latin cusines throughout Mexico and South America.

Really yummy!! Oops I thought I had red onions but only Vidalia (sweet onions) were left in the cupboard so that is what I used. Not as cute but I'm sure just as tasty if not more as I don't like too spicy an onion. I used a lot less organic apple cider vinegar for religious reasons, a perfectly ripe avocado, sea salt, freshly ground black pepper, plus a high-quality extra-virgin olive oil. I may make this again. Made for RAMADAN TAG 2012!
MARINATE THE ONION:.
Place the onion slices and vinegar in a resealable plastic bag, press out as much air as possible, and close the bag.
Alternatively, place the onion and vinegar in a small bowl and put a piece of plastic wrap directly on the surface of the ingredients so that the onion slices remain submerged in the vinegar.
Allow the onion to marinate for at least 30 minutes.
ASSEMBLE SALAD:.
Reserve a few tablespoons of the vinegar used to marinate the onion before draining the onion slices and setting aside.
Place the avocado slices on a serving platter and top with the red onion slices.
Drizzle the oil and reserved red wine vinegar over the salad and season with salt and pepper to taste.