Ambervim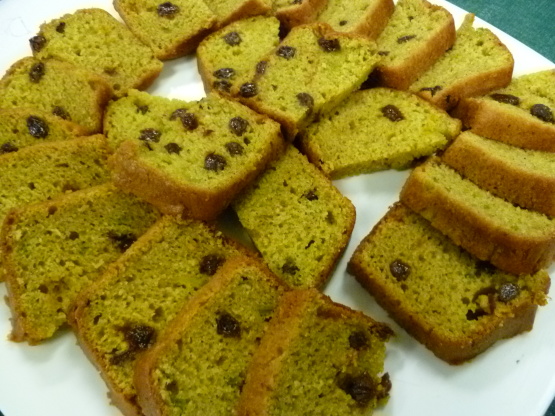 An interesting way to use those avocados in the fridge on the verge of going bad.

I've had this recipe printed out for ages (I found it somewhere other than food.com), and finally got around to using it because I had some avocados that were getting pretty soft. This was surprisingly good -- I usually shy away from sweet avocado recipes, because I can't get guacamole and sushi out of my mind whenever I taste avocado. I really didn't want to throw away a whole bag of avocados though, so I gave this a shot (this used up about 2 1/2 Hass avocados). I omitted the raisins (don't care for them), and I used a cinnamon-glazed pecan and cranberry mix that I had on hand. I also didn't have any buttermilk in the fridge, so I just used some vinegar-soured milk instead. The batter is a pretty green color, but it bakes up more brown than green. The grated orange peel was very complementary in this. In fact, that was the strongest flavor I picked up in the baked bread. I think if you served this to someone and told them to guess what flavor it was, they would probably guess zucchini only because of the occasional green pieces in it. I would definitely make this again, and I might add some cranberries to it, because I really liked the cranberries from the nut mix in it. This made two good-sized 9" loaves, so I bet this would be perfect in a Bundt pan as well. Just a note, if your avocados are a bit stringy, these fibers will collect around the beater of the mixer when you make the batter. Be sure to remove the little ball of stringy fibers before putting the batter in pans. Yummy, thanks for posting! :)
Preheat the oven to 350 degrees F (175 degrees C).
Grease and flour two 9x5 inch loaf pans.
Sift together the flour, baking soda, baking powder, salt, cinnamon and allspice. Set aside.
In a medium bowl, cream together the sugar and butter until light and fluffy. Beat in the eggs one at a time, then mix in the mashed avocado.
Stir in the dry ingredients alternately with the buttermilk until just mixed. Fold in the chopped pecans, raisins and orange zest.
Divide the batter evenly between the two loaf pans.
Bake for 1 hour in the preheated oven, or until a toothpick inserted into the center of the loaf comes out clean.
Allow loaves to cool in pan for at least 20 minutes before removing.