Avocado Pesto Pasta - Vegan
Prep 10 mins
Cook 15 mins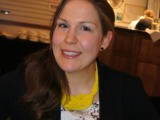 Rich and creamy with all your favourite pesto flavours! Who knew flavour this big could come together so quickly.
Directions
In a large pot, bring water to a boil. Add pasta and cook to package directions. While pasta cooks, in a food processor, blend basil, pine nuts, avocados, lemon juice, garlic, and olive oil. Season with salt and pepper.
Drain pasta. In a large serving bowl, toss pesto with hot, freshly cooked pasta and garnish each serving with a basil leaf. For an extra touch of color and flavor, top pasta with sun-dried tomatoes.
Reviews
Most Helpful
I add chopped pepperoncinis instead of sundried tomatoes for a little kick and it's so good. Make what you plan to eat during that meal though. Because of the avocado, it doesn't look as appetizing the next day as the sauce browns overnight.
Great recipe!!! I used walnuts as that's what I had on hand, and instead of sundried tomatoes, I added diced fresh tomatoes. Surprisinly filling!

This was truly, truly delicious! I cut the pasta back to 10 oz for our family, and found that half the sauce was enough. That left me another 3/4 c or so that I can use for some other wonderful purpose...score! I used walnuts instead of pine nuts as the latter are running $21/lb at the moment, and I cut the oil back a smidge. Otherwise I made it as written. As I added things to the food processor for the pesto I felt more and more virtuous LOL, which made enjoying the decadent final product all the more fun! I used fresh tomatoes instead of sun-dried out of preference. Thanks so much for posting! Made for ZWT 7 for the Vivacious Violets.