Avocado, Lettuce and Walnut Salad With Honey Dressing
gailanng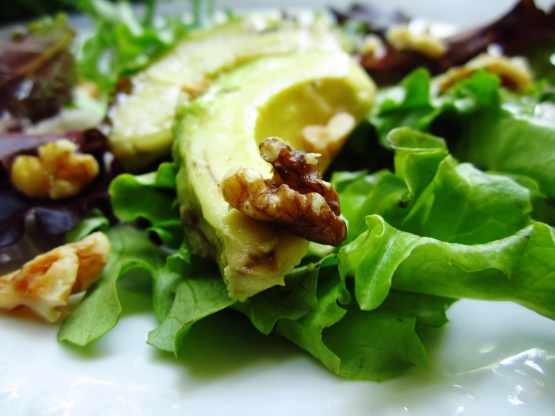 This salad has an original taste. Sometimes I do it without avocado. It still tastes good. The honey dressing adds zest to the ordinary lettuce salad. I cook it very often for a long time. I don't know where it came from. My mom cooked it very often.
Chop lettuce into not big pieces.
Chop onion into very small pieces.
Combine onion with vinegar, salt, ground black pepper, and honey.
Add vegetable oil, stir thoroughly.
Peel 2 avocados and cut into thin pieces, baste with lemon juice.
Put lettuce into a salad bowl, then put avocado.
Pour the honey dressing.
Sprinkle with walnuts.