Avocado, Ham and Cheese Melt
ImPat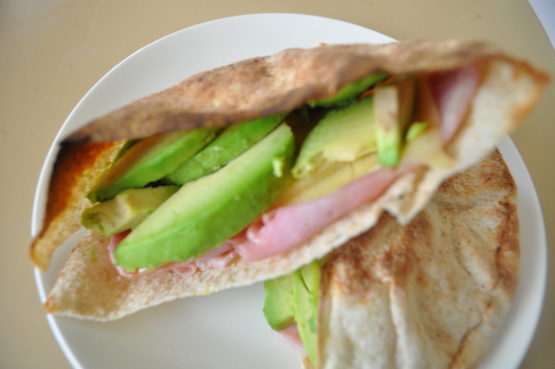 I was home alone and made this...

Top Review by ImPat
I doubled this and the DM and I thoroughly enjoyed. I used thinly shaved ham as that is what I had and as we can't get dairylee here in Australia I used a sharp vintage cheddar and just sliced the avocado and placed on top and then slid the lot under the grill/broiler for a few minutes and then we enjoyed. Thank you Perfect Pixie, made for ZAAR Chef Alphabet Soup.
1

pita bread
1⁄2 avocado

1 -2

slice dairylee cheese (has to be dariylee)

1 -2

slice thick cut ham (from the deli)
cut pita in half.
place as much ham as you want in a pocket,fill on top with cheese then fill on top of the cheese with mashed avocado.
grill for about 5-10 minutes until the cheese has melted.
so good.