Avocado Fries With Chipotle Ketchup
Weewah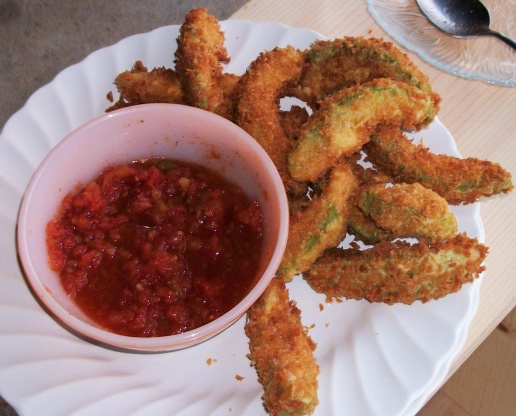 These were very tasty, I didn't have the panko so I used my own seasoned bread crumbs. I don't think it made any difference. I served them with chicken.

Top Review by Trisha
these are great! I have never had cooked avocados before so I was a liitle bit leary, but they turned out to be delicious. I didn't have seasoned bread crumbs either so I made up my own. I threw in some caraway seeds, they complement the avocado so well!
For ketchup, heat olive oil in saucepan and saute onion and garlic for 6 minutes.
Add chipotle pepper and tomatoes, cooking over low for 5 minutes.
Add spices, vinegar and brown sugar, simmer for 8 minutes.
Puree in food processor, add salt to taste.
Heat oil to 350 degrees in deep fryer.
Cut avocado in half, remove seed, quarter each half, gently peel skin away.
Combine flour, cumin, coriander, salt and pepper in flat bowl.
Put Panko in another flat bowl.
Lightly beat eggs and milk, and put in yet another flat bowl.
Dredge avocado slices in flour, then egg mixture, coat with Panko.
Deep fry until golden brown.
Remove from oil and place on paper towels to drain.
Serve with Chipotle Ketchup.