Avocado-Crab Enchiladas with Green Sauce
Brenda.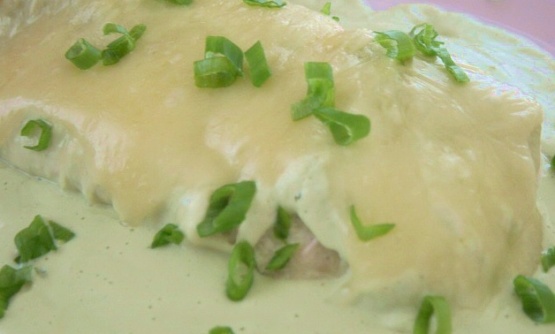 This is a recipe I have not tried but really looks good! Prep time includes refrigeration time. Source: The California Avocado Commission. For Avocado-Chicken Enchiladas substitute 4 skinned and boned chicken breast halves, cooked and shredded, for 1 pound crabmeat.

This recipe is good but very rich. I substituted 8 oz of low fat sour cream for half of the cream cheese and still thought it was a little too rich. I love cilantro but also would cut back on that -- maybe eliminating it from the filling and just using it in the sauce. By the way, the sauce by itself, is fantastic -- would make a great dip. I will probably make this again with a few adjustments.
Process 1 cup broth, next 5 ingredients, and ½ teaspoon salt in a blender or food processor until smooth, stopping to scrape down sides.
Remove 1 cup sauce, and stir in crabmeat, next 3 ingredients, and remaining ¼ teaspoon salt.
Set aside.
Stir together remaining 2 cups sauce and remaining 1/2 cup chicken broth.
Cover and chill up to 4 hours, if desired.
Spoon crabmeat mixture evenly down center of tortillas.
Sprinkle evenly with 2 cups cheese, and roll up.
Place seam side down in a lightly greased 13- x 9-inch baking dish.
Cover and chill up to 4 hours, if desired.
Pour sauce mixture over top, and sprinkle with remaining 1 cup cheese.
Bake at 350° for 20 minutes.
Serve immediately.