Avocado Caesar Pasta Salad

This is a great summer pasta salad, or actually any time of the year pasta salad! Everyone raves about it!!!
Directions
Gently mix together all ingredients and chill until ready to serve.
Before serving, add additional salad dressing if needed, and more cheese if you like.
If you're making this far in advance, add the diced avocados before serving.
Reviews
Most Helpful
Yummy!!! I love avocados and artichokes so this was a no brainer for me, but even my picky eater friend liked it, so I know it must be good! I used grilled artichokes (and a bit of the oil they came in), and Ken's Creamy Cesar dressing. I left out the tomatoes because I didn't have any but don't think it changed the overall flavor. The tomatoes would add a nice pop of color however. Oh, and added some fresh lemon juice (mainly to keep my avocados nice and green). So gonna make this again and again, I may even add some tuna next time! Thanks for sharing!!

I had avocados and leftover caesar salad dressing so I made this. In order to make this vegan I left out the cheese (instead I used ground up raw cashews with nutritional yeast as a great substitute for parmesan) and used a caesar salad dressing I made out of tofu. Very easy and delicious. I froze the rest to eat for lunch at some future date. Thank you!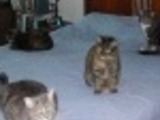 I prepared this and took it to a friends party. Everyone loved it! And 2 of them asked me for the recipe, so I passed it on to them...thanks! :)