Parsley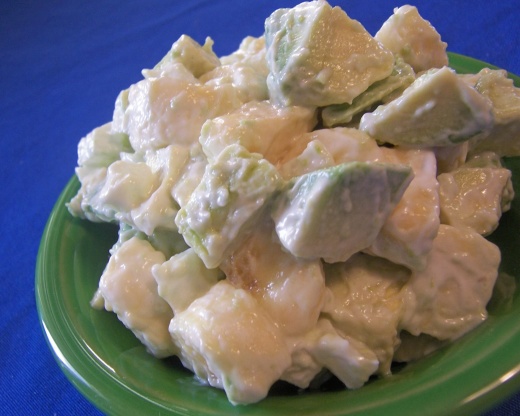 This is my favorite Avocado recipe, and so easy! It was given to me by my sister-in-law's mother, who comes from Miami, Fl. It tastes like a dessert, but is called a salad and is quite addicting. Up until now, it's been one of Miami's most closely guarded secrets :).

I made this recipe as written, but it was a bit bland for my taste. I made it with a red onion, so I added another quarter of the red onion for a total of half a red onion, and I let it sit in the fridge for a couple of hours and it was much better. I will definitely be making this again and often.
1

avocado, peeled, pitted and cut into bite sized pieces (Florida, or 2 Haas)

2 -3

bananas, sliced into bite sized pieces
1⁄4 medium onion, diced

2 -3

tablespoons mayonnaise, approx., just enough to hold it all together
Combine all ingredients and stir gently until evenly mixed. Refrigerate until chilled or serve at room temperature, your choice.
After a time or two, you'll change the proportions to suit your tastes. Enjoy!