BarbryT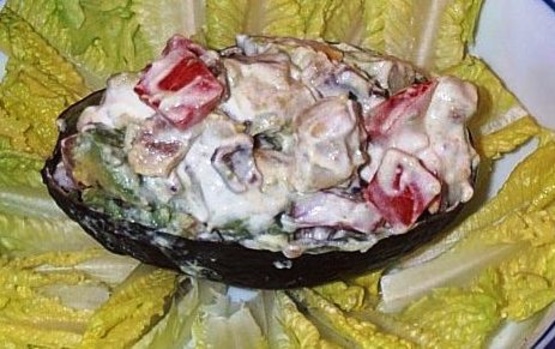 This is another recipe from the "1 of a Kind" cookbook of the Junior League of Mobile, AL. Altho somewhat similar to another recipe here on RZ that I liked & reviewed, this version expands the concept. Yield was given as 6 servings, but I like this so much that I would want 2 for me! Enjoy!

Those deep south Junior League cookbooks are dangerous! (I know...I have a bunch myself--Baton Rouge and Monroe, Louisiana, Charleston, South Carolina and half a dozen more). These boats are so rich there is no way I could eat two of them in one sitting. They are luscious, easy, impressive. Did I say rich?! Perfect for a formal "ladies luncheon"...perfect for an informal meal for one. I used lime juice and it was perfect. Thanks, twissis.
Combine bacon, sour cream, tomato, onion, lemon juice & salt in a bowl.
Scoop out avocado pulp, dice & add to other ingredients.
Fill avocado shells w/mixture & serve immediately.
NOTE: While not a part of the recipe, I favor adding diced black olives to the avocado mixture.