Avocado, Bacon and Shrimp Wraps
twissis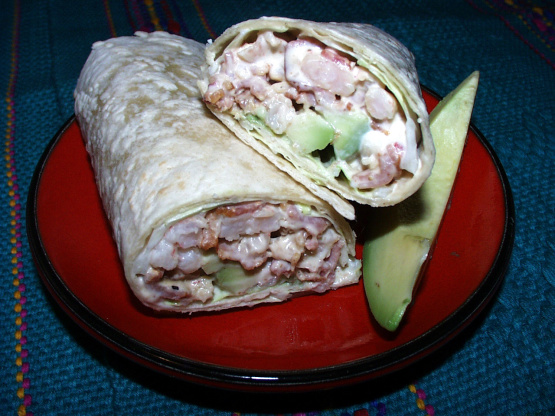 I found this recipe last year in the Chicago Tribune and have made it several times since then. It's best to use a good, smoky bacon and I prefer the lavash bread to the flour tortillas, but that's just a personal taste. Also, I usually buy the cooked shrimp when it's on sale at my store, which makes this even easier. I make one of these up in the evening, wrap in plastic wrap and throw it in my lunch bag in the morning to take to work.
I made using Marie's Creamy Ranch instead of Mayo. Used a Toufayan Savory Spinach Wrap.
Spread the flatbreads or tortillas with mayonnaise. Lay a lettuce leaf on each; top each with avocado and tomato slices. Divide the shrimp and bacon evenly among the sandwiches; top each with the remaining lettuce. Roll the flatbread to make a tight cylinder.
If made ahead, wrap well in plastic wrap and refrigerate. I've only kept them as long as the next day, for lunch so don't know how well they'd keep any longer than that.