Avocado and Shrimp Tomato Cups
KateL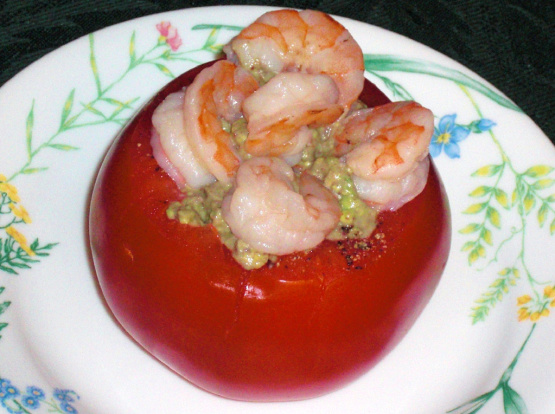 Do you like guacamole, shrimps and fresh tomatoes? Then this is the perfect first course to serve at a Summer dinner party. The guacamole is served in the tomatoes to make it extra elegant.

I made this for a lunch main dish so did make a few adjustments. I used 2 large tomatoes (approx 4"), cut each into petals leaving the bottom intact, and then divided the salad between the two. The tomatoes were plated on leaf lettuce and served with crudites and wasa crisps. It made for a very enjoyable lunch on a hot day! The guacamole was very loose, but my avocado was ripe so that might have made a difference. Next time I will add the yogurt a little at a time. I was using frozen shrimp so after thawing I squeezed them to eliminate as much water as possible. The filling is very tasty and I loved the addition of the tapenade. I found the salad had slightly too much garlic for us. I did add the onion & cilantro as mentioned in the optional ingredients. I thought the filling would work well in cherry tomatoes for an appetizer buffet or tray too.
Cut the tops off the tomatoes. Take out the insides with a spoon. You might have to take a slice off the bottom to be able to stand them flat. Sprinkle with salt, pepper and olive oil.
Cut the Avocado in half and take out the seed. Take out the flesh and chop it really small.
Mix the Avocado with the yogurt, tapenade, lime juice, garlic, salt and pepper. Try mashing the avocado a bit while mixing.
Taste and adjust seasonings, Fold in half of the shrimps.
Fill the tomatoes. Use the other half of the shrimps to top the tomatoes and sprinkle any extras around the tomatoes.
tips: You could add in chopped cilantro. You might chop up some of the insides of the tomatoes and mix it in with the filling. You could chop up a few tablespoons of red onion and mix it inches.