Avocado and Crab Thermidor (Easy Microwave Fix)
Brenda.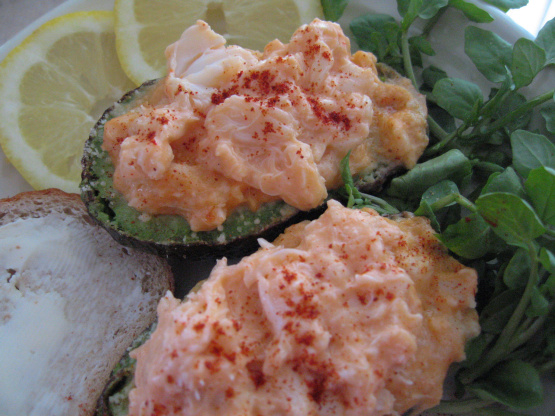 This is recipe #4 from *Microwave Cooking* by Lorna Rhodes & another that gets high marks from me because of my particular fondness for its ingredients & versatility. I modified the recipe slightly w/the addition of Old Bay as I favor using it w/crabmeat. This recipe works well 2 ways: 1) As a starter or a salad course atop a bed of lettuce to serve 8 … or … 2) As a main entrée for a luncheon or dinner meal to serve 4. *Enjoy* !

Got 15 minutes? That's all it took to put this delicious dish on the lunch table today. I couldn't believe how beautifully this came together in the microwave. I served as suggested, but had a thought. Maybe next time (and there will be a next time) I will cube the avocado, layer in the bottom of my dish, cover with the creamy thermidor sauce, microwave and serve over toasted brown bread. Thanks for a lovely, quick lunch. Nick's Mom
Place butter in a bowl & microwave on HIGH for 30 seconds. Stir in flour & return to the microwave for 30 seconds.
Pour milk into a sml jug or lrg coffee mug & heat on HIGH for 1 minute. Then gradually blend heated milk into butter/flour mixture. Cook on HIGH for 2 minutes, whisking every 30 seconds.
Add next 5 ingredients (tomato puree thru salt & pepper) to the sauce & stir in the crabmeat.
Sprinkle avocado flesh w/remaining lemon juice. Pile crabmeat filling into avocado halves & sprinkle w/Parmesan cheese.
Place in a shallow dish & cook on HIGH for 3 minutes. Serve hot w/brown bread & butter.