Avo Ranch Twice Baked Spuds
twissis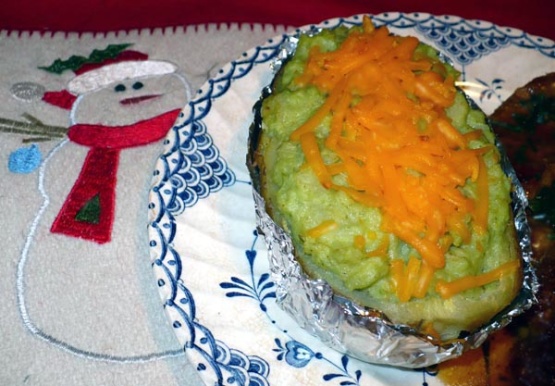 This recipe came about last night after putting potatoes into the oven and realising I had no sour cream or cream for my twice baked potatoes. I was inspired by Avocado Ranch Dressing by DieniaB. The results were very tasty & worthy of St Patrick's Day.

I love anything w/avocado, so I was a cinch to love these potatoes & I did. The proportions allow the mellow flavour of the avocado to shine & I esp liked the use of ranch dressing here as it adds a tasty dimension absent in other recipes like it. The recipe was an easy quick fix using my immersion blender & seems to welcome pers pref. I like cheddar cheese a lot too, but felt some crispy bits of bacon & freshly snipped chives would be excellent in place of the cheese. They were a great side to pork cutlets in a light sauce & are sure to be repeated, so thx for sharing the recipe w/us. :-)
Heat oven to 350°F or 180°C.
Prick potatoes with a fork or skewer to let the steam out during cooking, then place on a tray and bake until tender when pierced with a fork or skewer.
Remove spuds from oven.
Cut a hole in the top of each spud and scoop out the flesh, leaving enough on the sides to hold them firmly in shape. Place the removed flesh into a bowl, discarding the skin you cut out.
Mash the flesh with a fork or potato masher until no large pieces remain. Add butter and mix into potatoes.
Add avocado and ranch dressing to the mashed spud, stirring until all combined.
Scoop mixture into the shell of each potato, piling up on top to use all the mash.
Place grated cheese on top of each spud.
Return spuds to the oven for 5-10 minutes until cheese has melted.