rangerskadi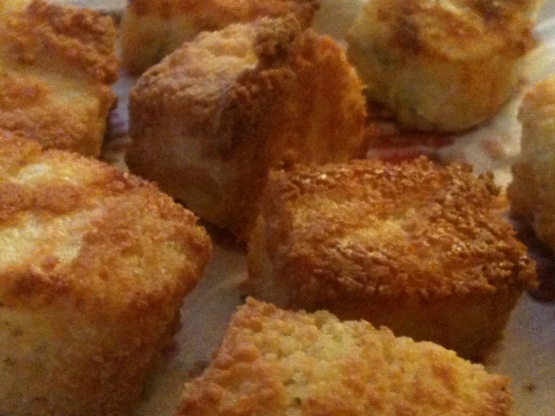 My Aunt Avis loves to entertain in her beautiful home overlooking the Atlantic ocean. She's given me lots of great recipes that my own guests rave about. This easy, elegant and decadent finger food is one of my favorites. Garlic puffs also make a great snack, a side dish for pasta and soups, or a rich replacement for croutons in a ceasar salad. Stock up your freezer so you always have some on hand. They will store for several months in a zip locked freezer bag, but they probably won't last that long! Set up an assembly line with your egg dip and melted butter, and be ready to get your hands dirty. (These are worth it!) Some tips; Be sure to use flavourful garlic butter in this recipe - that's key to a tasty result. I usually add both fresh garlic and a pinch of garlic salt. Don't buy expensive parm - you can use the less expensive variety sold in plastic shakers.
1

loaf sliced white bread

2

eggs (more if needed)
1⁄4 cup milk
1⁄2 lb garlic butter

1

cup finely grated parmesan cheese
Trim crusts from bread.
Mix eggs and milk.
Dip one slice of bread into egg mixture, and sandwich it between two dry slices of bread.
Cut each 'sandwich' into nine squares.
Dip each square in garlic butter and roll in cheese.
Freeze the squares on a cookie sheet and store in resealable plastic bag.
*PUFFS MUST BE COOKED FROM FROZEN.
Bake on a baking sheet at 350 degrees for 15 to 20 minutes or until browned.