Sageca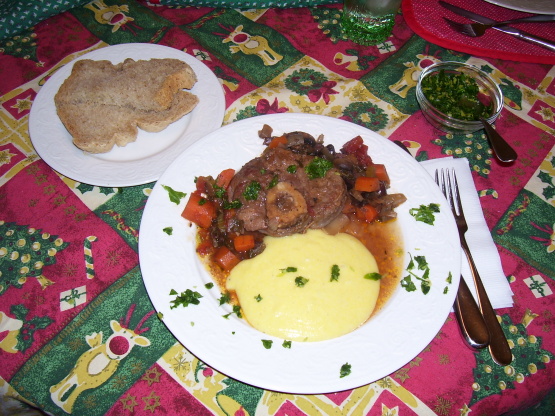 David made this for us when we came to visit in Toronto, Canada. It is a savory veal stew. Ellen made a rice pilaf, and I steamed broccoli and cauliflower to go with it.

I won't lie, I was always intimidated by osso bucco, but you made it so simple to make and the result was amazing. I might reduce the onion amount by half next time, but that's just a personal preference. Thank you.
Put oven rack in the middle position of a 350 degree Fahrenheit oven.
Bring veal stock to a simmer in 1 quart saucepan over moderate heat, keep warm and partially covered.
Pat shanks dry and sprinkle with salt and pepper.
Dredge shanks in flour to coat, shaking off excess.
Heat olive oil in a 5 or 6 quart wide heavy ovenproof pot over moderatly high heat, until just smoking, then brown shanks on all sides.
Simmer in stock for 2-1/2 hours.
Saute onions, carrots, and celery in the butter and add to the veal.
Add tomatoes and rest of ingredients and simmer another 30 minutes.