GaylaJ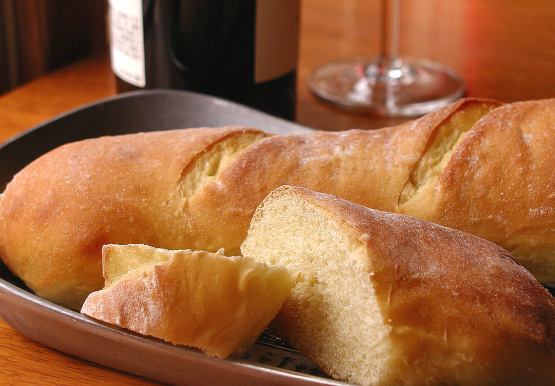 This tastes like the bread from Avanti's Italian restaurant in Bloomington Illinois.

This recipe is excellent. One small suggestion is to cut into the flour about a Tbl of butter flavored Crisco. Otherwise the bread can be very dry. Once we did this it has been very moist and delicious everytime.
Dissolve yeast in warm water. Let sit, undisturbed for about 10 minutes. You should see little bubbles appear. This tells you that the yeast is active.
In a large bowl, mix oil, eggs, salt, sugar and water and yeast mixture together till blended.
Add flour one cup at a time, mixing well after each addition.
Knead till smooth and elastic.
Let rise till doubled, about 1 hour and 30 minutes.
repeat the kneading and rising.
Punch down.
Cut dough into 2 pieces.
Let rise, covered for 10 minutes.
Shape into 2 oblong loaves, about 14 inches long.
Place on greased cookie sheets.
Cover: let rise again, about 50-60 minutes.
Cut slash down middle of bread or 3 slashes diagonally on top.
Bake at 350 for 20 to 25 minutes.