Rita1652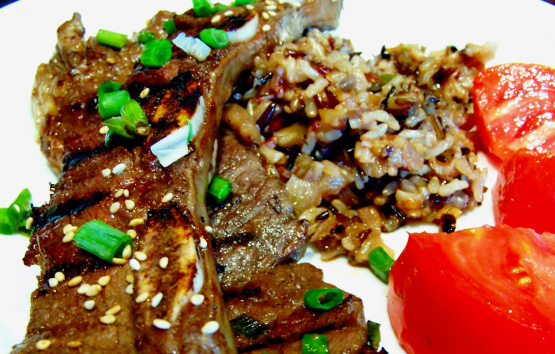 A beautiful chewy autumn side filled with a blend of wild, whole grain brown rices apples, onions and a kick from a jalapeno. I use Lundberg Rice blend, But if you can't find it go for brown rice of choice. Start the rice cooker before dicing the goodies. This would be a nice stuffing!
1

tablespoon Smart Balance Omega Plus or 1 tablespoon vegetable oil

1

onion, diced

1

apple, corded and diced

1

jalapeno, minced

1

garlic clove, minced

1

cup lundberg wild rice (It is a blend of long grain brown rice,sweet brown rice, wild rice, whole grain Wehani rice, whole g)

2

cups water

1

cup apple cider

1

teaspoon pineapple sage

Garnish

1

tablespoon chopped toasted walnuts (optional)
Place the smart balance spread in the rice cooker and press start.
Dice the onions, apple, jalapeno, and garlic. Add to the rice cooker or pot if doing stove top. Saute till translucent.
Add blend stir to coat.
Add cup water and and cider.
Season with salt, pepper and sage.
Close and cook till done and fluff. Top with nuts.
If cooking stove top boil then bring to simmer place a lid on the pot and cook for 50 minutes.Adding additional water if needed.