Autumn Spice Pound Cake W/ Pomegranate Glaze
Jackshoe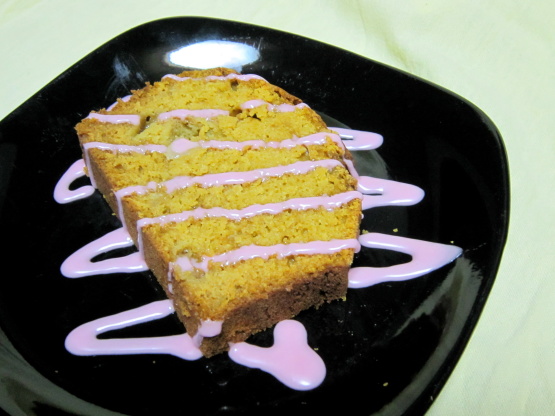 Thank God for modern day supermarkets because I can make this cake year round! This combines some of my all-time favorites ( pumpkin, apple, and pomegranate), and is not too sweet but just perfect with a cup of coffee or tea.

This is really really good! Super moist and very flavorful. I had to substitute POM Pomegranate blueberry juice for the Pomegranate juice the recipe calls for. I also used 1 teaspoon pumpkin pie spice instead of cinnamon because that is what I had on hand. I again cheated and cooked mine in two loaf pans as I didn't have a tube pan but it still came out great. Personally I would leave the glaze off, as it is super sweet and almost detracts from the flavor of the cake. It does add some pretty color so if you do add it, add it sparingly for a nice pop without the sickly sweet.
Preheat oven to Heat oven to 350 degrees.
Grease and flour tube pan.
Cream shortening and sugar thoroughly.
Mix in eggs, pumpkin and juice.
Blend in flour, soda, salt, baking powder, and cinnamon.
Stir in apples.
Pour into prepared tube pan.
Bake 65 to 70 minutes or until wooden pick inserted in center comes out clean.
Allow to cool for 15 minutes then remove from pan to cool completely.
After about an hour when cake is cooled, mix glaze and drizzle over cake.