Calee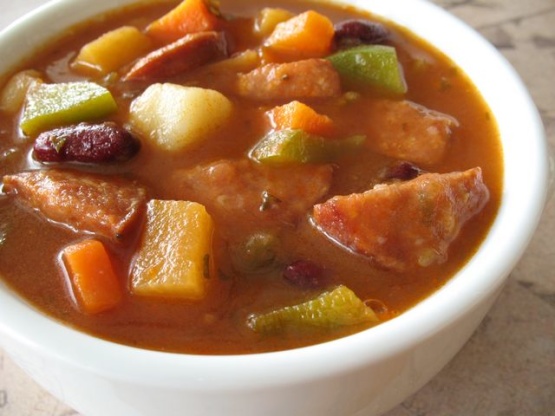 Plain and simple. This soup has no spice in it, gets its flavor from the farmer sausage and green pepper.

We really loved this soup! I used a can each of kidney beans and black beans. I did miss a little spice so added a little chili powder and one diced jalapeno. I also cheated a little by using lower fat chicken sausage. I can't say how much we love a rutabaga, I always sub them for potato in soups and stews, my son thinks they're yellow potatos! Definately comfort food.
Cut sausage into 1 inch pieces, then in half again.
In a frying pan heat oil cook sausages for 3 minutes.
Add diced potatoes cook for 2 minutes set aside.
In a large soup pot add beef stock, carrots celery, rutabaga, onion.
Boil 20 minutes or until vegetables are tender.
Add sausage, potatoes,kidney beans, tomato paste, salt and pepper.
Simmer for 10 minutes.
Add green pepper and parsley simmer another 5 minutes.