Autumn Sausage Casserole (In the Crock Pot )
lvt96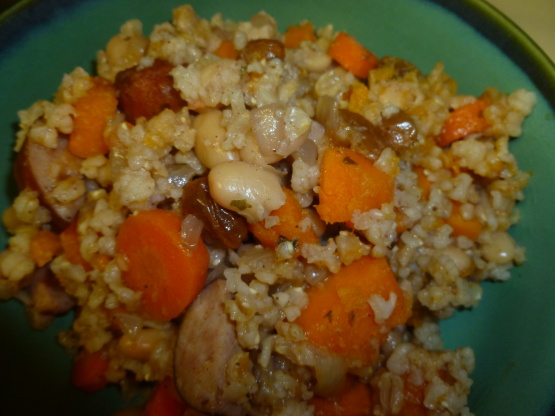 Easy peasy recipe adapted from A Year of Slow Cooking. After looking through the reviews at her blog, I see that cooks who used a 6.5 quart crock pot had problems with this cooking too much. My crock pot is a 4 quart size and I have not experienced that problem. I do think the stirring is a good suggestion and have changed the directions accordingly. You could use any sausage you want but the sausage does need to be partially cooked or smoked. Try chicken with artichokes, chicken with apple, kielbaska, Italian, andouille, or whatever sausage your family enjoys. This uses LEFTOVER rice so plan for that. I love leftovers. :) This could be gluten free if you are very careful with your choice of sausage.

Wow this was really good and so easy too. I followed the recipe and went with the Sweet Potatoes. They went well with the spices. I bought them at Trader Joe's already cut up into french fry sizes and just diced them a bit. I also used TJ's frozen pre-cooked rice (a 10 oz bag). The dish is so colorful when you mix it all together. Thanks for the tip.
If you are going to use uncooked sausage, brown on the stove top, and drain before adding to the crockpot.
Otherwise, line your 4 quart sized crock pot with a slow cooker liner, dump ingredients into the crock, and stir well.
Cover and cook on low for 3 1/2 to 4 hours, or until the orange vegetable is tender.
STIR once during the cooking time. I have not made this on high but am guessing an hour with more frequent stirring.