Autumn Pumpkin Spice Pancakes
Food.com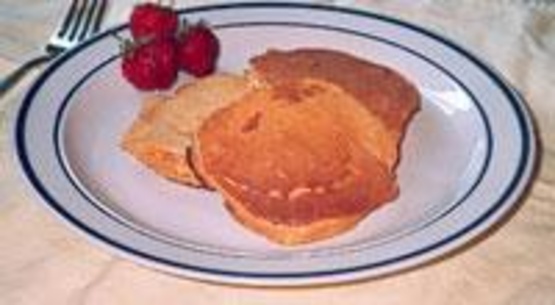 This sounds like a great recipe for fall! I haven't tried it yet, but it says to cook these slowly and not to worry about them darkening because of the pumpkin. 8)

I love pumpkin, so I was excited to try these pancakes for breakfast... I wasn't disappointed! They were delicious, and quite light and fluffy(probably due to the beaten egg whites). I used a 1/3 cup measure as directed, and ended up with 11 pancakes. Next time I will using half whole wheat flour for added nutrition. Thanks for a great pancake recipe!
In a bowl, sift the dry ingredients.
Next, stir in milk, pumpkin, and apple butter.
In a separate bowl, beat the egg whites into stiff peaks.
Carefully fold whites into batter.
Combine.
Use 1/3 cup batter for each pancake.
Brown on each side; flip to brown evenly.