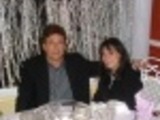 When the brisk autumn arrives, I tend to cook with fresh apple cider quite a bit. There is nothing like the crisp, tangy taste! Over the years, I began to add it to my pot roast recipe, and it became a family favorite. It just adds a hint of sweetness that really lifts the gravy from average to wonderful. Even "non-Pot Roast Lovers" (which there happen to be quite a few) enjoy this twist. I also know most people like potatoes in their pot roast, but I always serve my pot roast with either Potato Latkes or Perfect Potato Pancakes (Latkes). I would love to try this in the slow cooker sometime, too!
Directions
In a large bowl, combine apple cider, tomato juice, ketchup, sugar, salt and pepper and set aside.
Heat oil in Dutch oven over medium heat; add garlic and saute it for about 1 minutes. Add the roast, and turn with tongs to brown on each side. Pour the reserved liquid mixture over the roast, then cover the Dutch oven. Simmer for 2 hours, then add the carrots and onions; cover and cook for another hour longer or until meat and vegetables are tender. Remove roast and vegetables to a serving platter; tent with foil to keep warm.
After de-fatting pan juices, add water measure 3 cups. Mix flour and cold water until smooth and stir into pan juices. Bring to a boil and cook, stirring constantly, for 2 minutes or until thickened. Season with salt and pepper. Slice roast and add back to Dutch oven with vegetables. Pour in gravy. Turn to coat evenly with gravy, then transfer to serving platter to serve.
Reviews
Most Helpful
I made this last week, but just got to posting this today. I made the whole roast, and froze half for sandwiches later. I can't say as I tasted the vinegar, but all in all, it turned out really well. Since I'm a ketchup-a-holic I loved the gravy. Great flavor! Thanks for posting!Made for KK's Recipe for The Day event '09
This pot roast came out really nice. I made as directed except did not add the vegtables as we like these cooked separately and increased the tomato juice and omitted ketchup. I also cut back the recipe by 1/2. This dish has a very generous gravy which is nice, rather to much gravy than too little! The flavour of the gravy is just great! A beautiful meal on a cool Fall Sunday evening; I served it with Potato Casserole / Mashed Potatoes and steamed broccoli and asparagus. Made for PRMR.