Annacia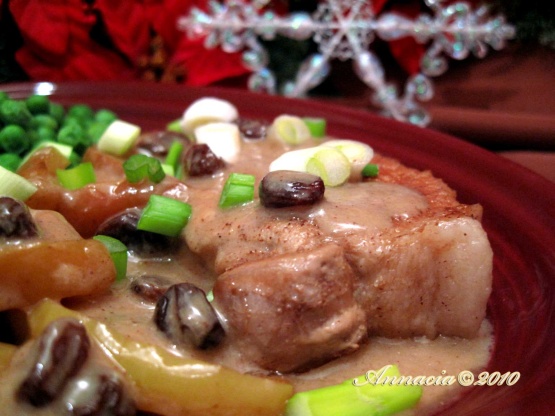 This is posted in request for a pork recipe with Sun-maid Raisins. I will make this sounds like an easy recipe thats sweet and rich. I'd say comfort food. I tweeked it with cinnamon and ginger. Serve it with fluffy white rice. I finally made this and you can omit the cream and serve without.

Well I can honestly say that I'm already looking forward to enjoying this lovely dinner dish again. The loin slices are tender, moist and tasty while the apple and raisins are a pure treat. Don't cut the apple any less than 1/4 inch thick at the smallest as they will soften a lot and you will want to keep the slices intact when plating. Thanks for a great meal Rita. Made for Comfort Cafe, Jan '10
Cut pork into ¼-inch slices; sprinkle each with garlic salt.
In large skillet, brown pork slices in oil, a few slices at a time.
Return pork and any juices to skillet.
Combine apple juice and flour; pour into skillet.
Add apple slices, raisins, cinnamon and ginger.
Cook, stirring frequently, until mixture comes to a boil and thickens.
Cover; reduce heat and simmer 10 minutes or until pork is tender.
Remove pork, apples and raisins to serving dish; keep warm.
Bring pan juices to a boil; blend in whipping cream.
Cook until slightly thickened.
Pour cream mixture over pork, apples and raisins.
Sprinkle with green onions.