Prep 15 mins
Cook 40 mins
Directions
Mix together flour, sugar, baking powder, baking soda, and salt, cinnamon, and nutmeg.
With a pastry blender, cut in butter until mixture resembles coarse crumbs.
In a smaller bowl, beat eggs, buttermilk, and vanilla.
Add to dry ingredients and stir just until moistened.
Fold in pears.
Spoon into 3 mini loaf pans (5x2 1/2 inches).
Bake at 350 degrees for 35-40 minutes or until tests done.
Cool in pans 10 minutes, then remove to wire racks to cool completely.
Reviews
Most Helpful
This is easy to make and so very good.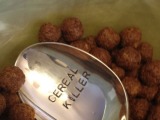 This is delicious bread! I made it as one loaf in a 9x5 loaf pan, and baked it for just over an hour. It is moist and so wonderful from the spices and the pears. I used more pears than called for- two large ones diced up. When mixing together, I was concerned there wasn't enough moisture, but once I added the pears at the end and mixed again, I lost my concern. The pears add enough moisture to tie everything together. I'm making another loaf tomorrow. Thank you so much for this recipe!
Delicious! This quick and easy bread is so flavorful and moist. I made this exactly as written except that my spice measurements were "heaping", and I used 1/4 tsp. Baking Spice Blend Mix instead of the nutmeg. I baked this in my stoneware mini loaf pan for approx. 40 mins.,and it made 3 nice-sized mini loaves of bread. My family loved this and gave it 2-thumbs up. Thank you for sharing this fantastic recipe...it is definitely a keeper!