Autumn Creamy Pumpkin Pie Dip
BecR2400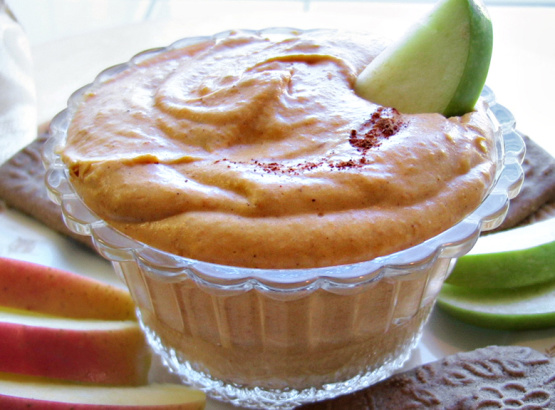 We love this creamy smooth spiced pumpkin dip served with crisp slices of red and green apples and Dutch or Swedish ginger cookies!

This was excellent. Being diabetic, I love finding a recipe that is so easy to to convert to diabetic-friendly (which means watching sugar AND fat). I used Sugar Twin's Brown Sugar, and low fat (nuefchatel) cream cheese. Because Sugar Twin has a funky aftertaste, I added a splash (less than a TBS) of sugar free caramel drink syrup (the kind that you use to flavor coffee drinks. Huge hit! Definitely will be making this one again!
In a medium bowl, beat the pumpkin and the cream cheese until smooth.
Beat in the brown sugar, vanilla, and pumpkin pie spice or cinnamon; combine well and beat until smooth.
Cover and refrigerate until serving time. We like to serve this with ginger cookies and apple slices as dippers. Enjoy!