3 Reviews
Homey and comforting chowder! We did double the recipe and used chicken broth for the water and bouillon then again the broth with the flour. Did use shredded sharp cheddar and topped with a sprinkle of cheese along with the bacon. Served with ham sandwiches on rye and we all enjoyed a terrific tasting lunch. Made and reviewed for the Pick A Chef Orphanage - Fall 2012.

I couldn't stop eating this--it's so delicious. This is a nice quick recipe you can whip up on a cold weeknight when you can't figure out what to cook and nothing's in the cabinet. I found this recipe in Taste of Home Cooking Through the Seasons. Delicious! Thanks for posting this great recipe!

Doubled the recipe and made as stated - had to cook a bit longer than the time stated for my veggies to get done. Very tasty fresh and as left-overs. I added a dash of cayenne to my bowl for some zing. Thanks tinkerbell79 - this is a keeper!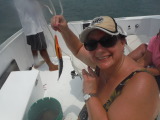 Autumn Chowder