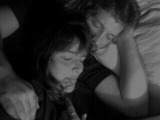 This is a sweet yet mild flavored soup made from a wonderful array of Autumn vegetables and fruit that are first roasted, then puree'd, then simmered. The bread and sour cream accompanies this soup perfectly, giving it depth and heartiness. It's even better the next day. :)
Directions
Preheat oven to 450°F Toss squash, carrots, potato, and onion with olive oil, salt, and pepper. Spread onto a large baking pan. Roast for 10 minutes.
After 10 minutes, add chopped pear and apple, toss to coat and cook an additional 15 minutes.
To a large stock pot or Dutch oven, add about half the chicken broth. When vegetables are done, place into cook pot with broth. Using an immulsion blender, blend thoroughly. Add remaining broth, ginger, parsley, thyme and mace. Continue blending until smooth. (alternatively, you can blend in parts in your upright blender or food processor, then add to cook pot).
Heat to medium and let simmer 10 minutes. Add cream and butter and more salt and black pepper to taste. Continue to simmer an additional 25-30 minutes, stirring occasionally. Serve with a dollop of sour cream and buttered baguettes or croutons.
Reviews
Most Helpful
I made this for a gathering tonight, replacing the butternut with red kuri squash, the potato with white sweet potato, using a pear only, and half & half. Fabulous! Everyone RAVED!!
Delicious soup, I don't generally like pureed soups but I had this lovely butternut that was aging and this seemed a worthy end for it. I didn't have any pears so this got a Spartan apple that gave excellent results. Mace was used in the soup and as a garnish sprinkle on top. I made this yesterday and enjoyed it hot and I would recommend it highly but at the time I thought it would be very nice chilled for summer as well. As I was going to reheat the leftovers for lunch (and the photo I didn't get last night) I decided to try it cold and the photo is the soup right out of the fridge with a fresh topping of mace, YUM both ways. This really took less time than I had thought it would and the roasted veggies took 14 mins, I might have cut mine a bit large, to fully roast. It was whizzed in the food pro and yielded a simply grand flavored soup.

I added 1 apple to this!