Authentic Wisconsin Bratwurst!
BecR2400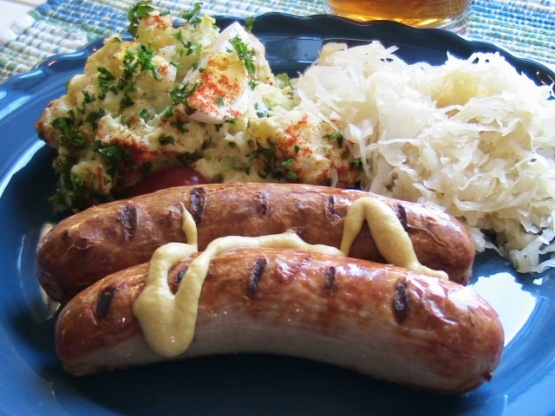 Every summer "Johnsonville" trucks roll up at local Super-Markets. Set up huge grills in the parking lot and cook their famous Bratwurst. This is their recipe!

Thumbs up from DH and myself! Did not have rolls, but served the brats and kraut with my Family Favorite Potato Salad recipe #309891, and a glass of beer! Very tasty meal with a great combination of flavors! Thanks for sharing this one with us, Koechin (Chef)!!! Made for the July '08 Grilling event in photos forum.
Bring the beer, onions and brown sugar to a boil. Place the Brats in the liquid and turn down to lowest heat, so they just simmer. Now get your grill fired up and when it's ready take your brats out of the beer and grill them. Since they are pretty well done, they need very little time on the grill. Turn the heat up to high under the beer. Dump in all or part of your drained sauerkraut. Let it cook on high until the brats come in from the grill (if you are not a lover of sauerkraut leave this off).
Condiments: Mustard, catsup, sweet pickle relish, raw onions as well as the sauerkraut onion mixture from the pot your brats where inches In Milwaukee we could buy a Brat Bun which is firmer more like French bread. But hot dog or hoagie buns will work too. :-).
When they cook them on the parking lots, they put the grilled brats right back into the beer and hold them there until people buy them. They have large pans sitting at the back of the grills. Since it's a promotion, they sell for $1.00. Yummmm!