Rita1652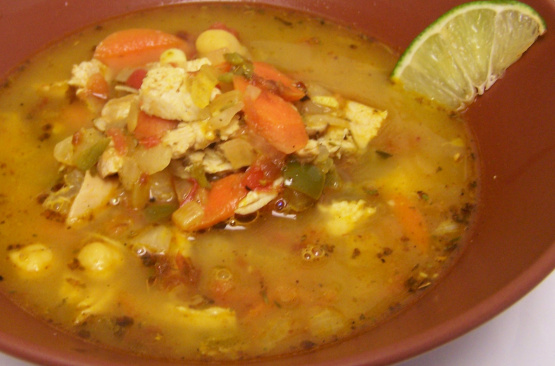 Published for ZWT III. Another wonderful recipe which is simple to make and delicious....If you don't have a 'chipotle chile en adobo' the use a regular red jalapeno and 1/2tsp of smoked paprika.

Made for Zaar Chef Alphabet Soup. We were divided on this one ~ DH & DD thought it was good and I didn't care for it. I like all the ingredients, but just didn't care for them in this combination.
Simmer chicken, broth, epazote and chipotle chile in a pan over medium heat until just cooked - 12-15 minutes.
Remove chicken and set aside.
Heat olive oil in a large saucepan over a medium heat. Add onion and carrots and sauté for approx 5 minutes, until tender. Add garlic and sauté for a further minute.
In same saucepan, add broth mixture and chickpeas, then cook for 20 minutes on medium heat with lid on.
De-bone chicken shred the meat and add to the soup. Add juice of 1 lime and adobo, and add salt and black pepper, to taste.