Authentic Puerto Rican Rice and Beans
Paul T.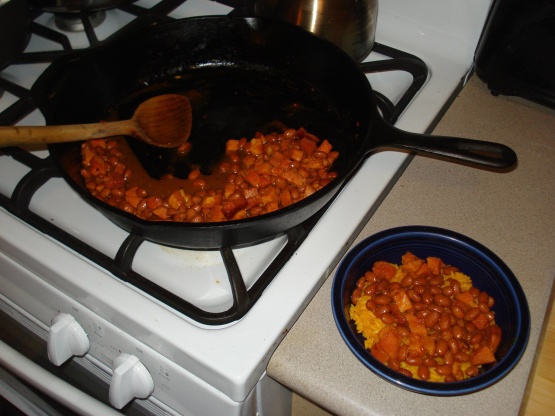 This is my family's recipe straight from Aguada, Puerto Rico. In PR we make it from scratch (all the seasoning, but this recipe tastes the same, just easier than the all home-made version. This recipe is easy and serves 4, or 2 if you eat alot!! Muy rico, come lo

Not how good rice and beans are made - this is much like the goya version on the back of cans. Instead use homemade sofrito and tomato sauce. Chop a little onion, cilantro, garlic, red bell pepper, and cubanelle pepper for a makeshift sofrito if you are short on other ingredients (see below). Sofrito recipe: 4 cubanelle peppers, 1 red bell pepper, 1 large onion, 1 bunch cilantro, 10 ajicitos (sweet peppers), 2 recao leaves, 1 head garlic in a food processor/ blender. Use a couple tablespoons in beans, soups, stews etc. Freeze the rest.
1

(16 ounce) can red kidney beans (habichuelas coloradas) or 1 (16 ounce) can pink beans (habichuelas coloradas)
1⁄2 teaspoon adobo seasoning (a flavored salt used in latin cooking)

1

tablespoon vegetable oil

1

slice cooked ham or 1 slice salt pork or 1 slice Canadian bacon, cubed
1⁄2 teaspoon garlic powder

1

(5 g) packet sazon con azafran seasoning (comes in envelopes in a box, gives color and a distinct flavor to latin dishes)
1 1⁄2 tablespoons sofrito sauce (comes in a jar, a necessary ingredient in Puerto Rican cooking)
1 1⁄2 cups white rice, uncooked
Made by Goya brand and can be found in the Spanish/Latin section of your grocery store Cook white rice as instructions on package of rice say to (5 minute rice is perfectly fine).
make sure when you are done cooking to let excess water out of rice.
In saucepan, heat oil on low-medium heat and put in the ham, salted pork, or Canadian bacon.
once it starts to sizzle, add the garlic powder and Adobo seasoning.
Then add the Sofrito and Sazon con Azafran seasoning, stir.
Next add red beans (drain most of liquid, just a little bit is needed to pull the sauce together).
Mix and serve.
(in Puerto Rico, it is traditional to serve rice and beans with almost every meal, but mainly with pork chops (cooked with a little sofrito and adobo seasoning) on the side).
Enjoy (a wonderful recipe straight from the island).