Authentic Mexican Marranitos (Molasses Gingerbread Pigs)
Maria R.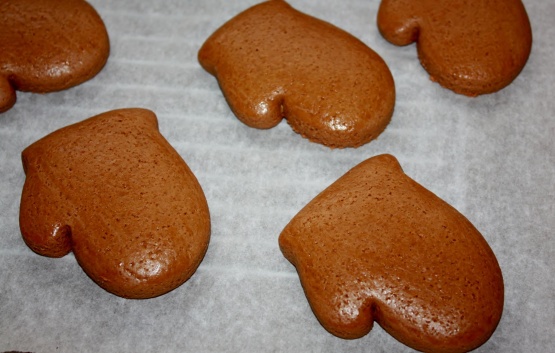 Moist and rich-tasting beneath a glossy, ever-so-slightly flaky top. Not quite cookie, not quite cake. Marranitos -- or cochinos, or puerquitos, as are they are called in some Mexican-American communities -- are often called "Gingerbread Pigs," although they don't actually have ginger in them - and no cinnamon either. In fact, traditional marranitos get their delicious spicy-brown goodness from molasses. Baking soda is the leavening agent, and it's the variation in the amount used that makes some bakeries' pigs fatter than others. In Mexico, bakers take piloncillos -- unrefined brown sugar pressed into small cone shapes -- and boil the sugar with just enough water to make their own molasses syrup, which is then added to the dough for the little pigs. Then the dough is rolled out and cut with pig-shaped cookie cutters about the size of a medium-size grown-up's hand. (4.5") *This recipe is from Fort Worth baker Marco Rangel, and is used for the molasses pigs he sells at his bakery, the Panaderia San Marcos. It uses the non-traditional addition of cinnamon. You may wish to try also adding a bit of dry ground ginger. And you may use a milk wash instead of an egg wash.

Great recipe - the taste is unmistakeably 'marranito'! I had a bit of trouble with the texture though. It was way too dry (I didn't judge well while adding the flour) and I had to add more milk and knead and knead to get it to come together. So they were even more dense than usual! But I think some minor tweaking (maybe also some additional baking soda) and this is going to become a family favorite. My husband had never had them and was thoroughly impressed!
Preheat oven to 350 degrees.
In a large mixing bowl, stir together brown sugar, shortening, baking soda, cinnamon and vanilla until the mixture forms a firm paste.
Add, mixing after each addition until blended, the molasses, egg and milk.
Gradually add the flour, mixing to form a dough; Roll dough out to about 1/4 inch thick; cut with a large pig-shaped cutter; Place each marranito on a cookie sheet lined with parchment paper.
In a cup or small bowl, beat egg; Using a pastry brush, paint tops of marranitos lightly with beaten egg.
Bake for 15 to 17 minutes, or until browned.