Authentic Jamaican Jerk Sauce
Jason C.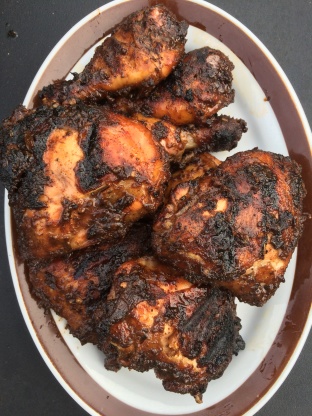 I found this recipe on www.jamaicans.com. We tried this and WOW was it awesome. I did not have allspice berries so I substituted ground allspice using one full tablespoon.
A very good Jerk. I used 3 Tbsp of allspice and added olive oil and the juice of a lime to blend easier. I marinated in a ziplock bag for 8-10 hours and added water to move the jerk around. The left over jerk in the bag went into a bowl and was brushed onto the jerked chicken during a long, slow and smokey BBQ. Off.The.Hook.
Put content in a food processor or blender and liquify.
Pour sauce in a jar and keep refrigerated.
The sauce will keep forever if kept refrigerated.
To increase spiciness blend pepper and pimento and add to sauce the hot peppers at any time.
Marinate meat at least 2 hours.