Authentic Green Tea Frappuccino
emx2500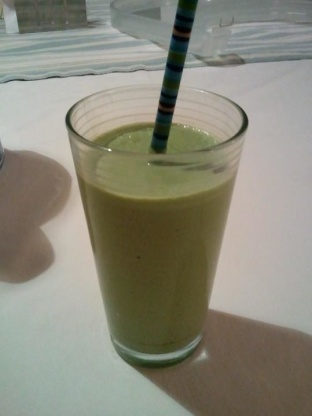 Got tired of paying $5 for green tea fraps at Starbucks and wanted to make it at home. Got tips from a friend that used to work at Starbucks. For the smoothie base, I buy it from a local smoothie shop at a mall near my house. They sell me a big bag of powder which I split into small portions and make up small batches to use for this and other smoothies. Haven't tried myself, but this site is selling a similar smoothie base powder: http://www.frozenx-plosion.com
2

teaspoons green tea powder (matcha)
1⁄3 cup milk
1⁄2 cup smoothie, base (liquid)

3

tablespoons vanilla syrup
1 1⁄2 cups ice
Add milk, liquid smoothie base, and syrup to blender.
Add green tea powder.
Add 2/3 of the ice.
Blend until ice is broken up into a fine consistency.
Check the thickness and add more ice and blend as desired. Careful not to overblend.
Add more syrup if you like it sweeter.